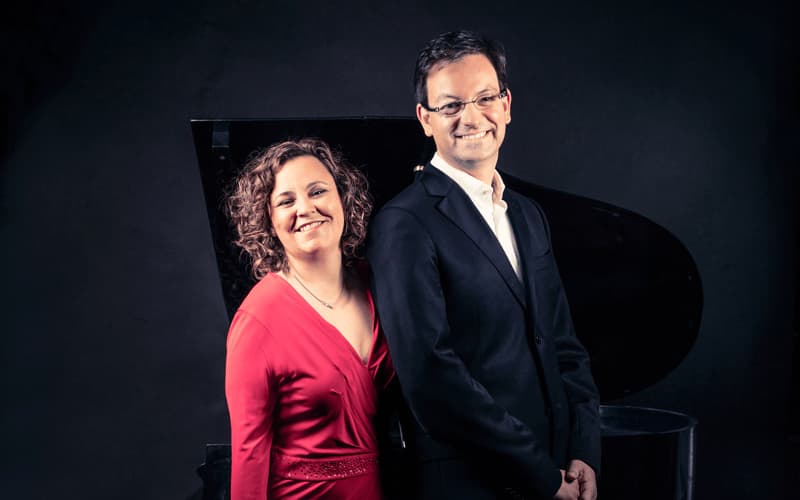 Mireia Fornells & Joan Miquel Hernández
The words 'Four hands and one single spirit', could very well define the exquisite pianism of Mireia Fornells and Joan Miquel Hernández, members since more than two decades of the NEXUS PIANO DUO, one of the most active and requested duos of the chamber music today.
In addition to a brilliant piano career on their own, they decide to perform the music for piano duo after meeting at the Conservatory 'Rimsky-Korsakov' in Saint Petersburg with the master Leonid Sintsev during their postgraduate studies.
Their proposals include masterpieces of the repertoire for piano duo, making special reference to the contemporary music of composers such as González de la Rubia, Mompou, Montsalvatge and Soler, among others, with the release of works that have been dedicated to them.
Their extensive concert career has brought them to offer numerous recitals at the most important halls such as l'Auditori de Barcelona, the Fundación Juan March and the Palau de la Música Catalana, as well as tours around Europe – France, Greece, Italy, Russia and Switzerland. The concert offered at the Rudolfinum (Dvorák Hall) in Praga stands out.
The Nexus Piano Duo has been awarded in the most renowned competitions at the international level, and they have been granted scholarships by the Spanish Ministry of Culture, the Government of Catalonia and the AIE (Association of Interpreters and Editors) to attend several international courses, where they have had the opportunity to work with great specialists such as Alicia de Larrocha, Nati Cubells, Evgeny Moguilevsky, Brigitte Engerer, Jean-François Heisser, Duo Genova-Dimitrov, Joseph Paratore and the Duo Benzakoun, among others.
Their accurate performances, always vibrant, have been warmly received with an overwhelming success by both audience and reviewers alike. Recently, the Nexus Piano Duo has been awarded with the first prize of the Poros International Piano Festival (Greece), where they stood out also for their brilliant performance as soloists with the Sinfonietta Orchestra of Athens. Recently, we can mention their collaboration as soloists with the Orquestra Simfònica de Barcelona i Nacional de Catalunya (OBC) with the Poulenc Concerto for two pianos.
They have been recorded live by Radio Clásica and Catalunya Música, among others.
Their recordings includes CD "Mediterrànies", dedicated to the piano music of the Catalan composer Mercè Torrents, the CD "Promenade", that includes four hands compositions from Albéniz, Granados, Mompou and Montsalvatge. And their last album "11", eleven Catalan composers for piano four hands.